Spring 2018 Fundraising Concert

PFFPNC is excited to announce its spring 2018 fundraising concert featuring 1964 The Tribute, a Beatles' tribute band. You have two great locations to choose from to enjoy the group that Rolling Stone called "The Best Beatles Tribute Ever," all while helping fire fighters make a difference in your community!
PFFPNC is also extremely excited and proud to announce its A+ rating with the Better Business Bureau. For more information, click the button below or click here.

WHEN: Sunday, March 25, 2018
TIME: 6:30 p.m., doors open at 5:30 p.m.
WHERE: Dorton Arena at State Fairgrounds, Raleigh
&
WHEN: Saturday, March 24, 2018
TIME: 8 p.m., doors open at 7 p.m.
WHERE: Cabarrus Arena, Concord
About The Band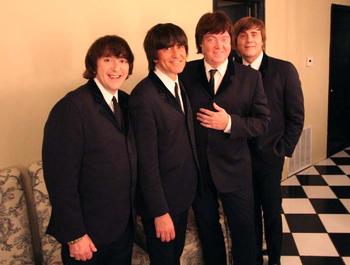 "1964 the Tribute is a Beatles' tribute band that was formed in 1982. They have performed over 2900 shows, released albums and released videos. They were also featured in a PBS special of the same name; the soundtrack to which is listed in the discography. 1964 the Tribute have been featured on Entertainment Tonight, PM Magazine, CNN, The USA Network, and The Nashville Network.
The band's mission is to actually recreate the 1964 Beatle invasion of America. They play a set of all early Beatles music, with some middle Beatles thrown in. The "concept is performing a show that gives you an idea of what it was like to see the Beatles when they were touring," says Benson. "It's definitely a music gig, but there's an acting element to it," says Tom Work. "None of us is really an actor per se. I probably come closest because I've done some plays, just in community theater. But there's some acting. You need to adopt the body language, the speaking voice. Those two things, I guess, for this kind of a role are two aspects that resemble acting. Everything else is more musicianship and vocal impersonation — singing, I mean." The group separates its life onstage from offstage. "We didn't want to be them, just wanted to portray them," says Work. "No one really considered wearing those boots around all the time or the tight pants or having hair that looked like that. We were musicians before, professional, full-time musicians. We didn't start doing Beatles until we were 30."
Purchase tickets
"Your support means a lot. We sincerely hope that our actions will warrant your continued support in the future," said PFFPNC President Tom Brewer. "The fire fighters of our nation are rated as having one of the most hazardous occupations in terms of death and injury. Working with citizens of North Carolina communities, perhaps we can change these statistics."
We are so grateful of your support and thank you. Please click the button below to purchase tickets or pay an invoice. Thank you again!

About PFFPNC Fundraising Concerts
Across the state of North Carolina, local organizations of the Professional Fire Fighters and Paramedics of North Carolina and the International Associate of Fire Fighters host bi-annual concerts to raise funds for fire education in their communities. Your support helps the more than 3,200 professional fire fighters, paramedics and emergency medical technicians in their efforts to take a pro-active approach to fire safety laws and community services throughout the state. 
By purchasing a concert ticket or voucher, you are enabling us to carry on with the many outstanding projects and other member benefits that are close to the heart of the fire fighters. The money raised through these fundraising concerts goes back into the community as fire fighters participate in the following programs:
Fire Safety Coloring Books – These publications provide local 2nd grade classrooms fire safety and fire prevention education. This is an interactive approach to get children and their parents/guardians more involved to learn proper exit strategies and skills in the event of a house fire.
Camp Celebrate – A weekend camp for children ages 7-15 who have survived traumatic burn injuries. Activities at Camp Celebrate include swimming, canoeing, arts and crafts, as well as an opportunity to meet other kids who share the experience of having been burned.
Jaycee Burn Center – Supporting the burn center at UNC Hospital where the Fire Fighters go if they are injured on duty. It is also the best burn center in the state for children, assisting local families of burn victims with extraneous expenses, such as travel to and from the center.
Fallen Fire Fighters Fund – To provide resources and assist the families of fire fighters that were injured or lost their lives in the line of duty, and to work within the fire service community to help reduce fire fighter death and injury through legislation and better training. 
Burned-Out Response – Working hand in hand with the Red Cross to provide food, clothing and shelter to local house fire victims.
Life Saving Smoke Detector Programs – Providing smoke detectors to families that cannot afford them.
Coats for Kids – Community outreach program established through collaboration with Operation Warm, Inc. to help children in poverty survive and thrive by providing brand new, made in the USA winter coats and bringing warmth to needy children in our area.
Contact Us
For more information or to purchase tickets over the phone for the Raleigh or Concord show, please call 919-977-0348. Our ticket office is located at:
5540 McNeely Drive, STE 101
Raleigh, NC 27612