The latest edition of PFFPNC's The Firefighter, a quarterly magazine produced by PFFPNC, is now available for viewing. Within The Firefighter, we hope you find compelling content, new trends in the fire service and thought-provoking topics and inspiration.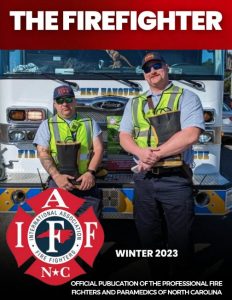 We encourage all our readers to submit articles about activities your Local is currently doing. These articles could be anything from public relations, elections, legislation, hot topics and more. Your articles are needed in order to continue to allow The Firefighter magazine to be a useful and beneficial publication. Please send any articles, photos or ideas to Matt Quarles at [email protected].
To read The Firefighter, please click the links below. West is everything from western North Carolina to Greensboro down through Charlotte. The East is the rest of the state. Also, please visit and support our sponsors as they are what keep The Firefighter free!