Nearly 70 students at Battleground Elementary School received a special surprise from the Lincolnton Professional Fire Fighters' Association in mid-November.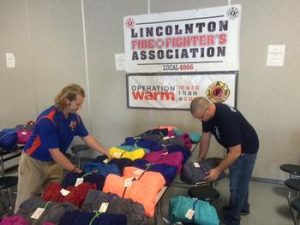 Jeffrey Hurt, president of Local 4866, along with other members of the association, came to the school with boxes of brand new winter coats to hand out to students as ambassadors of Operation Warm.
Operation Warm is a nation-wide project that provides new coats to children in need. These high-quality coats are Union-made in America. The project not only serves to provide coats to children but also to create American jobs.
"These coats don't just provide warmth to children," said Battleground's school counselor Kennan Eaddy. "They give them a sense of community, confidence and belonging. Many of the students haven't taken their coats off since they got them. They call them their 'firefighter coats!'"
To date, Operation Warm has given new winter coats to over 1.7 million children throughout America and beyond.
"The coats are purchased with the money we collect throughout the year through our fundraising concert ticket sales," said Hurt. "Working with operation Warm and the International Association of Firefighters gives us a chance to give back to the community that we serve and protect."
A brand new Operation Warm coat gives a child new found freedom and confidence to play more, learn more and do more.
To donate or learn more about the Lincolnton Professional Fire Fighters Association's partnership with Operation Warm visit www.operationwarm.org/lincolnton.