ASHEVILLE – Approximately 75 Buncombe County children, and around 300 others across the state, will not worry about staying warm at the bus stop or playground this winter thanks to the Professional Fire Fighters and Paramedics Association of North Carolina.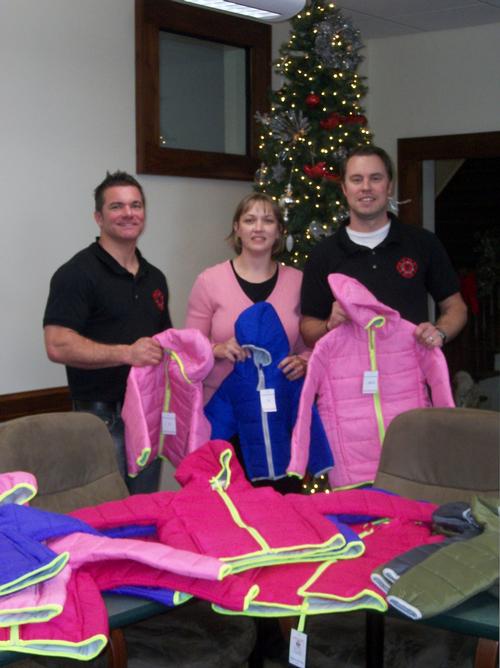 Asheville Fire Fighters Association donated its portion of the coats amongst the Black Mountain Home for Children, Eliada Home and Shiloh Recreation Center. A donation presentation was held to the Eliada Home, 2 Compton Drive, Asheville, at 3:30 on Tuesday. The remaining donations will made to the other two recipients days following.
"This is a great opportunity to provide to children in need in our community that we are proud to serve," said Scott Mullins, President Asheville Fire Fighters Association Local 865. "As fire fighters, we want to see kids in our town that are provided with warm coats. It's a good feeling that we are able to support a community that supports us by providing American-made coats to those most in need."
PFFPNC and its statewide local associations are active participants in Firefighters Coats for Kids, an outreach foundation that provides never-worn, American-made coats for children in need. Firefighters Coats for Kids is part of Operation Warm, a national non-profit organization that addresses the need of children living in poverty in the United States with new coats.
In its first year of participation, PFFPNC has donated money for 400 new coats for children across North Carolina. The coats will be divided among some of the local organizations of PFFPNC, including Asheville, Concord, Statesville and Winston-Salem.
The PFFPNC is involved in many statewide and nationally supported outreach programs. The statewide organization decided to become involved in Firefighter Coats for Kids as an example of giving back to the community that gives to its fire fighters and paramedics. The money donated to Firefighters Coats for Kids through Operation Warm comes from fundraising efforts in participating cities. Support for these efforts comes from the public, so PFFPNC feels it should in turn show its support to members of the community. This is one example.
The statewide organization also is in support of Fire Fighters Coats for Kids and Operation Warm because all donated coats are brand new, never worn or dry-cleaned, and most importantly made in America. PFFPNC is proud to support a cause that puts warm coats on the backs of children in need, but also support labor in the country that provides jobs for those also in need of work.