The 2021 PFFPNC Convention got off to a fantastic start on Tuesday. The day included numerous addresses from our many supporters from IAFF General President Ed Kelly to NC Speaker of the House, Tim Moore.
The morning started with a State of the Union address from PFFPNC President Scott Mullins. He thanked the e-board for the extremely hard work they've done during the COVID-19 pandemic. COVID hit everyone hard, but we fought for PPE, testing and vaccination.
We continued to work on cancer legislation, which currently is in the budget – a big thanks to Rep. Moore for his support on that. We've also worked on PTSD legislation and separation allowance.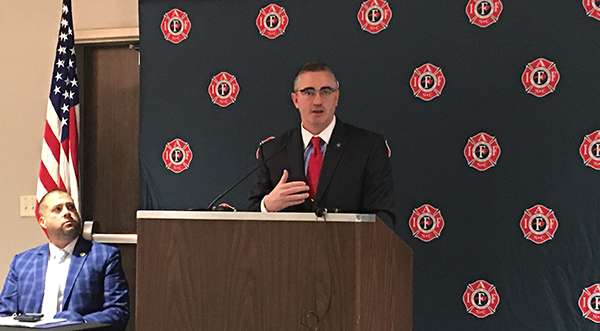 We've added three new locals, with others in the works, grown membership across the state and offered training on political networking, organizing and communication.
IAFF General President Ed Kelly also addressed the crowd. We are so grateful to President Kelly for his support in getting cancer legislation passed. He is the first General President to walk the halls of NC State House, Mullins said. Kelly took time to talk to our political leaders in Raleigh, and we are forever grateful.
One reason for that is because presumptive cancer legislation in every state is a priority for Kelly. It is the No. 1 killer of our fire fighters. We must protect them and their families, he said.
President Kelly addressed the challenges of the last two years but said the IAFF is committed to its members and making the union stronger and better than ever with legislation, finances and taking care of our members and their families.
The keynote speaker of the day was NC State Speaker of the House Tim Moore. A crowd wearing yellow North Carolina Fire Fighters for Moore t-shirts greeted him.
Speaker Moore started his speech by asking, What can we do to make your job safer? It's one reason he fought so hard for fire fighters in the upcoming budget, which Gov. Cooper announced today he would sign.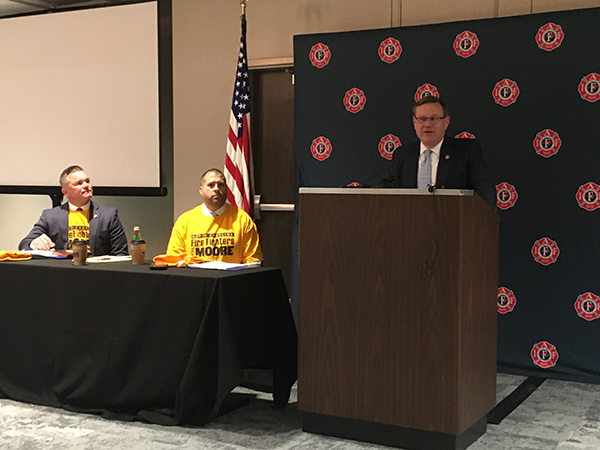 The new budget includes $15 million for supplemental insurance for fire fighters fighting cancer. There's also more than $7 million to establish a pilot health program for fire fighters and additional funds for equipment.
"We went from the bottom of the nation to the top in fire fighter benefits."
And it's just the beginning, he said.
Rep. Jason Saine, who spoke next, added that it's a budget we will all be proud of, and both representatives thanked PFFPNC members for working "hand in glove" to improve benefits for fire fighters.
Other speakers to round out the day included an update on the Peer Support Program from Greensboro VP Justin Price, as well as a new software developed by Wilmington's Scott Monroe, called Essential Personnel, to assist with peer support, health and wellness. Several supportive vendors, including MDA, Spangler Restorations and Fire Fighter Cancer Network also addressed the crowd.
The day wrapped up with the start of business, including nominations for officers. Your current e-board will remain mostly in tactic. Reelected were:
President Scott Mullins
Secretary-Treasurer Josh Smith
District 1 VP: Jeff Tracey
District 2 VP: David Pollard
District 3 VP: Keith Wilder
District 4 VP: Ben Bobzien
There will be an election on Thursday for three available Trustees seats. Nominees are:
Jerry Wiggins (current Trustee)
Dave Coker
Anthony Evans
Tim Carpe
There were no resolutions to discuss and business was closed until 9 a.m. Wednesday.