It wasn't all doom and gloom for Democrats in North Carolina on Tuesday. Asheville is the state's silver lining. Democrats and Asheville Local 865 supported candidate Brian Turner (pictured below with Local 865 member Matt Ballance) pulled off an upset over incumbent Republican Representative Tim Moffitt in NC House District 116.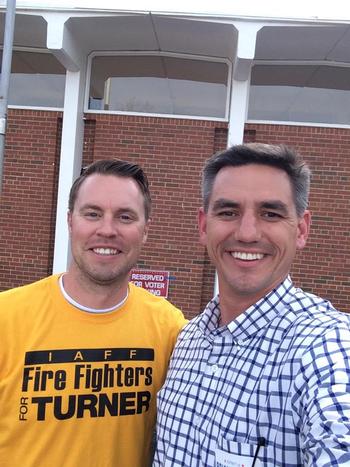 Moffitt was a co-sponsor of a bill with Rep. William Brawley (R) from Mecklenburg County designed to strip fire fighters and paramedics' rights to dues deduction. Currently, city and county administrators do not have to do dues deduction but Moffitt did not want local governments to have a choice. Moffitt was also a co-sponsor of a bill with Speaker Thom Tillis (R–Mecklenburg) that would have transferred all the public employee anti-collective bargaining laws to the North Carolina State's Constitution.
Asheville Local 865 President Scott Mullins and Association members spent months campaigning for Turner. Efforts included calling voters, publishing ads in the local newspaper, social media posts, word of mouth, T-shirts and simply getting as many Local members involved as possible.
"Buncombe County voters got out and voted and we helped do that," Mullins said.
Members of Asheville Local 865 worked the polls across the county Tuesday. Mullins said he worked a four-hour slot alongside a state representative. Working the polls opened doors for Local members to talk to community members, council members and representatives not on the ballot that they wouldn't have had otherwise.
Turner defeated Moffitt with 52 percent of the votes, or 13,236 votes, compared to Moffitt's 48 percent or 12,273 votes.
If re-elected, Moffitt was most likely going to be named Speaker of the House. In addition to sponsoring a bill that would have stripped fire fighters and paramedics right to dues deduction, Mullins also said Moffitt's record includes actions detrimental to the city of Asheville including taking the water system and airport from the City and transferring them to private run entities.
Beating Moffitt wasn't just about Asheville politics, Mullins said. Had Moffitt won re-election, his template for weakening municipalities would've been followed by other legislators across the state and would have negatively impacted professional fire fighters safety, compensation and retirement benefits.
This is a larger victory than many people realize since the legislative House districts had been gerrymandered to give legislators like Moffitt an unfair advantage in an election.
Another close race and victory in the western part of the state was in NC House District 115, Mullins said. Democrat John Ager defeated incumbent Republican Nathan Ramsey.  Ager had 51 percent of the votes, or 15,452 votes, to Ramsey's 49%, or 14,959 votes.
The past two years was Representative Ramsey's first term in Raleigh but he quickly became a rubber stamp for all of the legislative mischief from Moffitt and other House leaders.
At the end of the day, Republicans continue to control both the State House and State Senate. Democrats did make strides as there are three more Democratic seats in the House, 46, and three less Republicans, 74.  In the State Senate, Democrats gained one seat, now with 17 as opposed to 33 GOP seats.
Across the state, PFFPNC Locals got behind pro-firefighter and paramedic candidates through various methods including social media posts and word of mouth.
Regardless of your opinion as to how the elections turned out, PFFPNC Locals should be proud of going to the polls and supporting their candidates. Work will continue in Raleigh to support the rights of fire fighters and paramedics and the citizens we serve and protect.