On April 17, 2014, the Professional Fire Fighters and Paramedics of North Carolina continue their efforts to give back to the community. Throughout their careers, fire fighters and paramedics witness the tragedy of many burn victims and, in the course of their duties, often suffer burns themselves.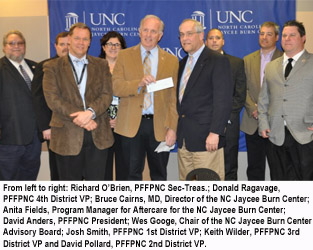 The PFFPNC Board decided that giving to the aftercare program of North Carolina Jaycee Burn Center was the natural thing to do. The PFFPNC E-Board traveled to the North Carolina Burn Center in Chapel Hill to present them a $15,000 check.
The PFFPNC Board approved the donation and the check was presented by President David Anders to the Center Director, Bruce Cairns, MD and Wes Googe, Chairmen of the Center's Advisory Board. The PFFPNC Board was served lunch and given a tour of the Burn Center facilities by members of their staff.
The North Carolina Jaycee Burn Center at the UNC Hospital is a 36 bed facility and is one of a few in the nation that is American Burn Association verified for adult and pediatric care.
This center is one of two in the state. Their aftercare program is second to none. They are able to boast that their facility has saved hundreds of lives and restored thousands of people, both children and adults, to lives of health and productivity.
At the same time, the Burn Center has advanced the scientific knowledge of burn care and rehabilitation. For more information, go to http://www.med.unc.edu/burn.
The donated check came from the profits of fund raising by IAFF affiliates across the State of North Carolina selling tickets to entertainment events.
The PFFPNC would like to express our thanks to FireCo, LLC. These profits would not be possible without their expertise as a fund raising Consultant and Council for IAFF Affiliates.