Jacksonville Local 4249 President John Romero was named Firefighter of the Year with the Jacksonville Fire Department for 2013. Romero received the award on Dec. 13, 2013, at the annual awards banquet.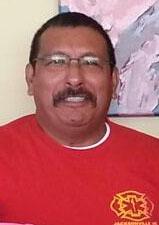 Romero has been employed with the Jacksonville Fire Department for more than 22 years. He is currently a Driver/Operator and holds many certifications including Firefighter I, II & III, Fire & Life Safety Educator I, Hazardous Materials Responder Level I, Driver/Operator Aerial, Fire Inspector Level I, EMT-Paramedic, and Advanced Firefighter Certification.
Romero was awarded the honor based on merits from the 2013 year.
"John's dedication to service has reached not only the depths of Onslow County, but across the state as well," wrote Deputy Chief S. Lee in the recommendation letter. "He has shown a concern for providing a high level of service to the public. He looks out for the health, welfare and safety of his coworkers."
Romero is on numerous committees and teams, including the Promotional Handbook Committee, Awards and Recognition Committee, and Jacksonville Fire Department Technical Rescue Team. He also works part-time for Onslow County EMS.
Romero is a founding member of the Jacksonville Fire Department Honor Guard, which is a team of dedicated firefighters who provide honorable, reverent service and help to the families of those fellow first responders who have fallen in the line of duty, as well as other memorial services. Due to the dedication and professionalism and compassion of Romero and others, the Jacksonville Fire Department Honor Guard has become known throughout North Carolina.
Romero volunteers his time in the community in many capacities, including support for charity organizations such as Onslow County Child Advocacy Center, the Salvation Army and the Muscular Dystrophy Association.
"John has been extremely dedicated to Jacksonville Fire Department and has worked tirelessly to help not only this organization but also his community," Lee said.