Approximately 50 Iredell County children, and around 350 others across the state, will not worry about staying warm at the bus stop or playground this winter thanks to the Professional Fire Fighters and Paramedics Association of North Carolina.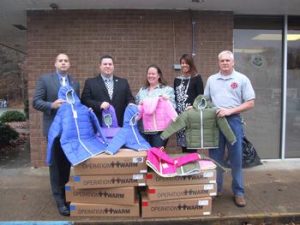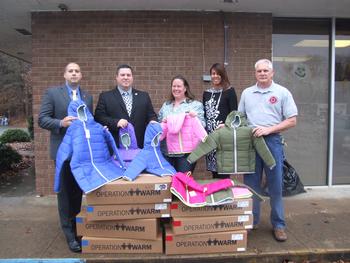 Statesville Professional Fire Fighters Local 3137 donated its portion of the coats to Yokefellow Ministry. A donation presentation was held at Yokefellow Ministry, 1292 Shelton Avenue, Statesville, at 3 p.m. on Thursday.
"The association thought this is a great idea and opportunity to provide to children in need in our community that we are proud to serve with something they could benefit from immediately," said Statesville Professional Fire Fighter Vice President Brandon Wiggins. "As fire fighters and citizens that live in and around this community, we want to see our kids in warm coats. It's an honor knowing that we are able to provide American-made coats to kids in need this winter."
Neil Furr, executive director for Yokefellow Ministry, said the coat donation is a blessing, especially this time of the year, because so many families are struggling to pay higher utility bills and put food on the table. Furr also hopes the Statesville Professional Fire Fighters' donation inspires others to help needy families in the community with warm clothes, food and help with utility bills.
"We see kids come in with bad coats or no coats at all," Furr said. "Many are going home to houses that are drafty and might have to wear coats at home. It's essential these kids have coats. With most donations, we don't really get to pick out sizes we need, and we don't get many new coats. With the holidays here, this is just a blessing."
PFFPNC and its statewide local associations are active participants in Firefighters Coats for Kids, an outreach foundation that provides never-worn, American-made coats for children in need. Firefighters Coats for Kids is part of Operation Warm, a national non-profit organization that addresses the need of children living in poverty in the United States with new coats.