PFFPNC President Scott Mullins and Political Director Josh Smith attended a meeting this past week comprised of leaders from the three organizations advocating for fire fighters and the fire service at the General Assembly.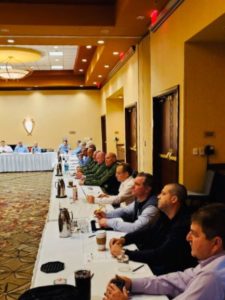 The three organizations include PFFPNC, the NC Association of Fire Chiefs and the NC State Firefighters Association.
"All three organizations have an important role to play at the General Assembly and we needed to sit down together and talk openly and honestly about what we want accomplished and how we get the work done," said PFFPNC Political Director Josh Smith.
President Mullins reports that the most common ground seemed to center on getting House Bill 520 | Firefighters Fighting Cancer Act, which passed the House in April 2019 and now sits in the Senate where Sen. Jim Perry (R-Wayne/Lenoir) is pushing for enactment.
"While we all want what is best for fire fighters, their families and the profession, we haven't always been our best at communicating what we are doing and saying inside the General Assembly," Mullins said. "This summit is hopefully the beginning of more conversations on how we can get work done for fire fighters."