PFFPNC mourns the loss of Rep. Linda Johnson, a Cabarrus County Republican lawmaker, who died on Tuesday from cancer.
The 20-year veteran legislator was a high-ranking appropriations chair in the House who reveled in visits from fire fighters across North Carolina.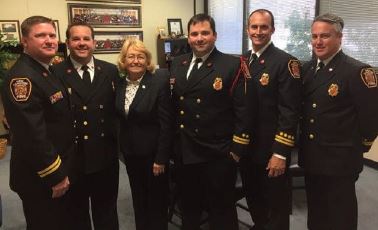 "Her door was always open for us and we were always greeted with a hug," wrote PFFPNC DVP Ben Bobzien, who exchanged text messages and phone calls with Rep. Johnson just days before she died. "She was full of integrity, loyalty and strength, and I will miss her and her friendship. I pray for her family's comfort and healing through this difficult and sad time."
PFFPNC DVP Jeff Tracey, who also serves as president of the Cabarrus Professional Fire Fighters Association, praised Rep. Johnson for using her power at the appropriation table to protect money dedicated to the Line of Duty Death cancer benefit.
"She was a friend to fire fighters right here in her home district, and she was a friend to every fire fighter across North Carolina," he said.
Rep. Johnson's death was felt across North Carolina's political world and across partisan lines, including Gov. Roy Cooper, who released a statement praising her public service to the state and Cabarrus County and ordering flags fly at high-staff.