Gov. Roy Cooper announced this week that three more people in North Carolina tested positive for coronavirus and brings the total known diagnoses in the state to 12.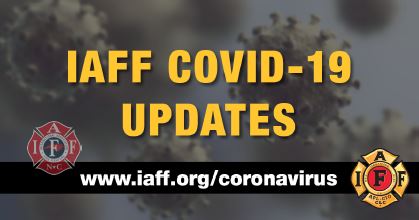 Cooper said two of the newest cases have been confirmed in Forsyth County and one in Johnston County and expects more to come. However, it was also announced this week that North Carolina is down to 250 test kits in a state of more than 10 million people so official diagnoses might not be coming anytime soon.
The IAFF, in coordination with PFFPNC in North Carolina and state affiliates across America and Canada, are continuing to monitor news sources and agency updates from the CDC, the World Health Organization (WHO) and the Occupational Safety and Health Administration (OSHA) for the latest information and guidance.
The IAFF also pushed down recommendations to states and municipalities this week, which were shared with Gov. Cooper and his response team on Thursday morning.
"We shared with Gov. Cooper an update on the IAFF's advocacy work in Congress that provides North Carolina with a portion of the $8.3 billion to purchase personal protective equipment (PPE), medical supplies and to pay fire fighters overtime during the pandemic crisis," said PFFPNC President Scott Mullins. "I am asking all local presidents and DVPs to contact their municipalities to let them know that fire fighters and emergency medical personnel receive priority as supplies are distributed."
Mullins said fire fighters can use this link for the latest protocols, FAQs, recommendations, background information on the pandemic and other resources available through the IAFF.
"As the pandemic continues to grow, fire fighters will be exposed to the virus and quarantines will be required for our members," said PFFPNC Political Director Josh Smith. "We need our local leaders and our members to engage municipal leaders to make sure sick leave is not used when a fire fighter is quarantined. We will be working at the state level to give municipalities the resources they need to cover this."