Rep. Holly Grange (R-New Hanover) (pictured with DVP Scott Mullins) joined Rep. Jason Saine (R-Lincoln), Rep. Rena Turner (R-Iredell) and Rep. Josh Dobson (R-Avery/McDowell/Mitchell) on Thursday to introduce House Bill 622 | Provide WC for PTSD in First Responders.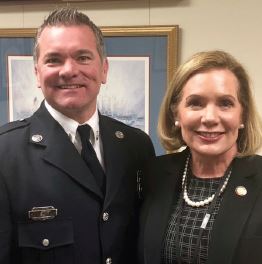 The legislation provides a process and standard for first responders to qualify for workers compensation benefits due to PTSD.
A first responder must have acted within his or her employment and must be diagnosed by a licensed psychiatrist who is reasonably medically certain that the PTSD is the result of employment activities.
HB622 is one of three major issues PFFPNC is taking lead on in the 2019 legislative session, including parity and presumptive cancer.