The High Point Fire Fighters Association is selling T-shirts and hoodies in rememberance of Todd Martinez.
Martinez passed away after he was struck by a car while out riding bikes with his wife on Feb. 2, 2014.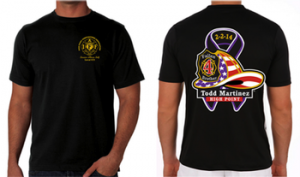 The T-shirts and hoodies will be printed on black, carry the IAFF logo and have Fallen Brother Todd Martinez High Point on them.
T-shirts cost $15 and the hoodies are $25. Sizes XXL and XXXL cost $1 more. The High Point Firefighters Association will place an order soon and plan to have them by the end of the month.
If you would like to pre-order a T-shirt or hoodie contact Charles Wilson, High Point Fire Fighters Association President, at 336-302-7649 or email [email protected].
They will take debit and credit cards. The money raised from the shirts will be given to Todd's sons for use for college.