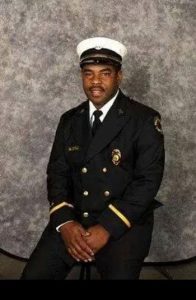 Wilmington Fire Figther Captain and IAFF Wilmimgton Local 129 member Eric Lacewell passed away Nov. 4, 2014, from complications of an injury he received on duty three years ago.
Capt. Lacewell was a Brother, friend, father and husband. He always had a smile on his face and a kind word for everyone. Capt. Lacewell fought a long, hard battle with his injury taht paralyzed him from the neck down, but he never lost his smile and never lost his faith.
Wilmington Local 129 said this on their Facebook page:
"We are not saying good bye for Capt. Lacewell will always be in out hearts, thoughts, and souls. He was the true meaning of what brotherhood is about. You will be missed but never forgotten!!!!!!!"
Capt. Lacewell was laid to rest on Monday, November 10, 2014.
Expressions of sympathy or condolences for the family or the local can be sent to IAFF Local 129, P.O. Box 15185, Wilmington, NC 28408-5184.